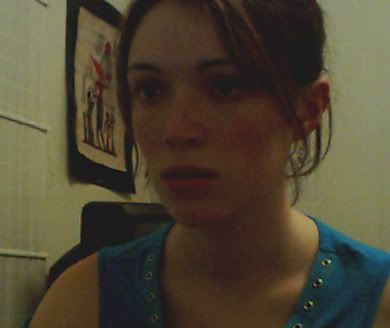 Hello there, that spacy lookin' gal up there is me, Grace, your faithful cartoonist. Instead of blabbering on about myself, I have made up a fake FAQ. Yup, completely fake.
WHERE DO YOU LIVE?
With your mom.... Ok, actually, in Canada. But that's all you're getting!
HOW OLD ARE YOU?
As of writing this, 19.
WHY DON'T YOU DRAW NOSES AND MOUTHS?
The first BOMC strips I drew (which were an early version of the Claire meeting Quantum Physics storyline), I drew with a sharpie. This mean that the lines were very thick, and I didn't have room in the face for noses or mouths. I decided this looked kinda cool, and suck with it (not to mention it saved time). It was never really meant to be a gimmick or anything... I'm just lazy.
CAN YOU ACTUALLY DRAW AT ALL?
I can draw better than I draw in the comics... however, it takes me a long time. I used to try drawing comics in my best style, but I got so frustrated trying to make each strip look perfect, I always gave up. For my better art, look in the Gallery.
CAN I SEND YOU FANART?
Hmmm, let me see.... YES!
WHY DON'T YOU LOVE ME?
We're from two different worlds.... plus, you use all caps. What's up with that?
WHY ARE THE EARLIER COMICS SO VERY, VERY CRAPPY?
I had originally planned for BOMC to be just for my friends, and therefore didn't spend a lot of time making sure the text and stuff was neat. However, I began to actually care what other people thought of my comic, and that is when the quality began to improve (also, I got a tablet).
DO YOU WANT TO DO COMICS FOR A LIVING?
Hells, no! Actually, I wouldn't mind. But I don't plan to, I am actually going into Theatre.